Frequently Asked Questions
General
Do you work with the public?
We are more than happy to work with the public on custom orders.
Do you sell wholesale?
Yes. Click here to log in to the A-Mark portal or open an A-Mark wholesale account.
What are the payment terms?
Payment is due upon placing an order.
What type of payments do you accept?
We accept wire transfer, ACH, or check.
About Silver Towne Mint
Are you associated with A-Mark?
Yes. We are a subsidiary of A-Mark Precious Metals, Inc.
Custom Minting
Are there minimum order requirements?
Custom orders have a minimum quantity of 50 pieces.
Do you do hand enameling?
Yes. Our two master hand enamellers have over 25 years of experience in their craft.
How long does it take?
Hand enameling orders can take up to 90 days.
What if I don't have drawings?
We are happy to help create drawings for you.
Do you only work with silver?
No. We also work in bronze, copper, and nickel silver.
Do you offer an antique finish?
Yes. All of our metals are available in an antique finish.
What are the coin edge options?
We offer smooth, reeded, stackable, and a loop with keyring as edge options.
Do you engrave?
Yes. Names, dates, messages, or serial numbers are all available.
How about packaging?
We offer a wide range of packaging options including polybags, capsules, tubes, and a variety of decorative boxes.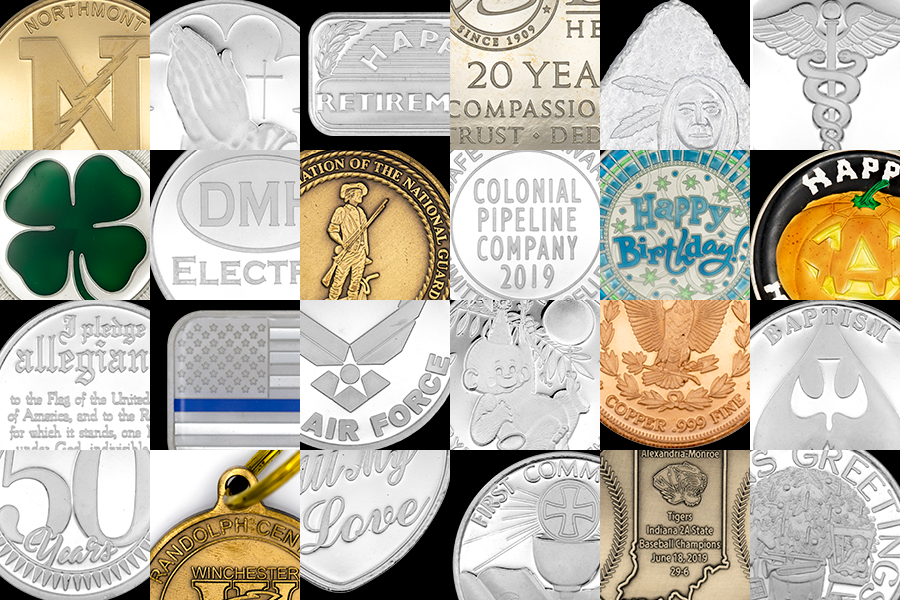 Custom Minting
Have a Question? or Ready to Get Started?
Silver Towne Mint's dedication to customer service ensures your complete satisfaction. We work with all kinds of Businesses, Corporations, Clubs, Schools, and Universities. We can answer any questions regarding your custom minting project.
How To Order